5% discount is applied to reservations made on our website or mobile page.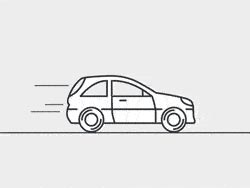 Please wait, we are preparing reasonable prices for you.
Istanbul Rent a Car
İstanbul as expressed by Napoleon "if the world was one country, İstanbul would be the capital" is the most beautiful city in our country and around the world. İstanbul looks like a small country rather than a city with its population and surface area. İstanbul is among the most mystical cities around the world with bridges connecting the Asian and European continents, centuries old minaret and the signs of largest civilizations of the past. In addition to historical and natural beauties, İstanbul as the capital of commerce is the 34th country with the largest economy. The city that has become the center of international companies and industrial giants have active rail system including fast public transportation vehicles such as airway, sea, highway and metro. Cizgi Rent a Car has Sabiha Gökçen Airport rent a car and İstanbul Airport rent a car services to those who came to this never-sleeping city by air. While the distance between Sabiha Gökçen Airport and the city center is 48 km, İstanbul Airport known as the 3rd Airport on the European side is 47 km away from the center.
You can contact with Cizgi Rent a Car that offers affordable solutions for your İstanbul cheap car rental needs and visit İstanbul streets with your car even on the busiest days. We recommend booking your İstanbul vehicle rental demands couple of weeks before your arrival.
İstanbul which is the most beautiful and largest city of our country with thousands of beauties to be discovered is a global center with nearly 20 million population. İstanbul will gift your unforgettable memories with its amazing Bosporus and historical texture. The warm climate and world-standard roads give chance to visit İstanbul in every season.
Buy Time by Renting a Car in İstanbul
Although the transfer network is large, İstanbul with commerce and tourism activities is one of the most active cities in terms of car rental. Since İstanbul is an intercontinental city with large highway network and expands to a large geography, travel with car is often mandatory rather than just being comfortable. Just like the other big cities around the world, transportation network of İstanbul cannot keep up with the intense population. Car rental is the most practical transportation alternative to be on time to a meeting or planned event in the city with 40 municipalities and various districts.
İstanbul with the highest passenger circulation in Turkey offers rich options in terms of rent a car service. You can save time with daily or planned car rental in your İstanbul trip. Your budget will not be pushed when you discover fast and comfortable journey or try to be fast in the city of İstanbul with more than 15 million population. Cizgi Rent a Car that offers services in various points in Turkey offers lots of vehicle options with affordable prices.
How to Rent a Car in İstanbul?
Although İstanbul rent a car firms are widespread, Cizgi Rent a Car is the dominant rent a car firm in the city with 25 years of experience and customer-oriented service. Customer satisfaction is the main priority for Cizgi Rent a Car that offers special prices and special campaigns for domestic and foreign customers. You can book your car in a short time from Cizgi Rent a Car website, call center or mobile app. The firm that offers continuous services for 24/7 has other payment options than credit card. You can pay with bank wire or in cash by using TL or other currencies.
All vehicles in Cizgi Rent a Car have complete vehicle license and the periodical maintenance is completed on-time. No additional fee is asked for the second driver. In addition to lots of options to meet the luxury vehicle demands, we offer rich alternatives to customers with limited budget. You can enjoy driving with affordable prices with large models for crowded groups or families, sedan and hatchback vehicles, MPV and SUV vehicles.
Quality, cheap car rental turns into a habit with Cizgi Rent a Car offices in İstanbul European Side and İstanbul Anatolian Side. You can receive your car rented from Cizgi Rent a Car from the offices in two sides of İstanbul. All you need is your ID or passport and driver license when you take your car.
Things to Consider When Renting a Car
When you rent a car, you need to make sure that the car meets your needs. You need to choose the car by considering the number of passengers and whether you need child's seat. Also, it is important to choose a car for your distance and to feel comfortable while driving.
You need to determine your driving qualities. You need to answer questions like Do you drive manual gear or automatic gear? Do you need diesel or gasoline car?
If you will travel to an unknown region, you might need navigation for directions. You need HGS for large metropolitans. You can determine the options for your expectations.
You might want to book early to avoid any problems in peak holiday periods. Thus, you can rent the car you want with affordable prices.
You need to review the contracts and service terms before receiving the car and check whether all car functions are working.
Cizgi Rent a Car is the right address to rent a car with professional knowledge and service quality and promises amazing driving experience in the car you want.
FAQs About İstanbul Car Rental
Can I rent a car with cash in İstanbul?
You can pay with cash when you deliver your rental car.
Is it hard to drive in İstanbul?
If you are coming from different cities of Turkey and if you will drive for the first time in İstanbul, you might struggle. But our vehicles have traffic and car insurance. So, there is nothing to worry about.
How Much İstanbul Car Renting Costs?
The prices change for the vehicle and season. Cizgi Rent a Car is one of the firms that offers the cheapest İstanbul car rental service.
Can I rent a car yearly in İstanbul?
You can rent a car yearly; all you need to do is contact us.
What Are The İstanbul Car Rental Prices?
İstanbul has more than 1,000 historical places to visit. In addition to that, it is a metropolitan city with thousands of tastes. Therefore, visiting İstanbul with dolmush, bus or taxi will be hard and expensive.
You need to consider car rental option to have the maximum efficiency from İstanbul whether you visit the city for leisure or business. With İstanbul inner city car rental service, you can travel in İstanbul as much as you like with affordable car rental. Additionally, the safest and most comfortable way for your family is to travel by a car driven by you. Since almost all vehicles of Cizgi Rent a Car has a navigation, you can discover every step of İstanbul.
Another advantage to rent a car is the fact that Cizgi Rent a Car undertakes all the procedures in case of an accidents and provides you a new vehicle. All you need to do is enjoy the comfort.