›

Antalya Airport International
5% discount is applied to reservations made on our website or mobile page.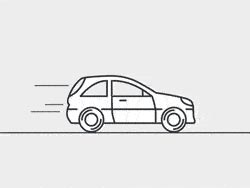 Please wait, we are preparing reasonable prices for you.
Antalya Car Rental
Antalya known for being the tourism capital of Turkey is a city with moderate climate and four seasons at the coast of Mediterranean, natural beauties and numerous historical artefacts. The city welcomes visitors to visit the natural and historical places as well as to attend meetings, conferences, seminars and organizations in every month. Those who visit the city for short-term or long-term will feel comfortable with easy Antalya rent a car. Antalya rental car alternative is dominant as the first selection of more than 20 million domestic and foreign tourists staying in the city and visiting the city. Cizgi Rent a Car as an important firm among Antalya rent a car firms that enable time and money savings satisfied the customers with cars for every need and budget.
Advantages of Antalya Rent a Car Service
You can increase your driving experience with manual and automatic car options to rent.
You can easily visit long beaches, entertainment venues and shopping centers in Antalya.
You can easily travel without getting too hot and tired in hot weather and crowded streets.
You can travel to historical artefacts and natural beauties in different districts and regions of Antalya without losing time.
You can easily take all the things you need to your business trip or holidays with your family or as a crowded group.
How to Rent a Car in Antalya?
Cizgi Rent a Car firms with long experience and customer satisfaction-oriented service has been the leader and pioneer of rental car service and the firm always offers advantages to customers. Cizgi Rent a Car that adopts comfortable and safe travel to nearby districts, touristic regions and historical regions with Antalya Airport Rent a Car service that is 15 km away from the city center always cares for all demands and recommendations of the customers. The firm with a wide range of service network offers service at full capacity in 25 offices without compromising the quality. If you want to rent a comfortable car when you visit Antalya, you can now visit a Cizgi Rent a Car office, book your car online 24/7 or rent a car from the call center.
What Is Antalya Rent a Car Locations?
You can receive your car rented for safe and comfortable travel from Cizgi Rent a Car offices in just a few minutes with the privilege of warm and fast service. Cizgi which is the number one address for economic car rental Antalya gives the option to pay with cash different than competitor firms. The firm manages to get A score from customers with cash service that do not require using or having credit card. You can deliver the rental car to the company that has an important position among Antalya rent a carfirms at any location.
Don't Miss the Advantages of Cheap Car Rental!
Cizgi brand which is at the top of cheap car rental Antalya searches meets the needs with discount options in the 3rd most crowded region of Turkey with visitor income throughout the year. There are affordable campaigns and advantages for cars preferred by regular customers, crowded families or groups. Your Antalya visit for business and leisure purpose turn into a comfort with the firm that increases your comfort with car rental. You can benefit from the advantages of early booking and rent a car depending on your annual leave, meeting or organization dates. With early booking advantage to rent a sport car, you can enjoy your holiday in a unique way. Complete car insurance, vehicle inspection and visa of the vehicles are completed by Cizgi Rent a Car on time for rental cars to ensure the safety of both cars and passengers.
You can safely and peacefully drive anywhere you want with fully checked rental car. Since Antalya with nearly 2.5 million population is a natural beauty, the city welcomes high number of domestic and foreign tourists. It is possible to experience the green, blue and history together in this Mediterranean city famous for tourism. Numerous ancient cities, amazing bays and wort-to-see natural areas are the main details that invite to visit the city. Therefore, many people visiting Antalya need a car to travel in the city. Cizgi Rent a Car offers you the chance to discover all the beauties of Antalya with economic car rental services. You can rent a car in any segment when you want to benefit from Antalya cheap car rentalservice and enjoy the city.
Things to Know About Renting a Car
Diesel car rental Antalya is the primary choice of those who will stay for a long time or go a long ride as this option is economic.
Drivers who wish to rent economy class car must be 21 years old and have driving license for 1 year. For mid-class vehicles, the driver must be above 25 years old and have driving license for 2 years. For upper class segment, the driver must be 28 years old and have driver license for 5 years.
Cizgi Rent a Car offers services from call center, mobile app and official website for continuous 24/7 service to offer the best services.
If you will arrive Antalya via airway, you need to call and inform the firm if your flight will be delayed or cancelled. If you want to cancel or postpone your booking, you can do this online from our website, mobile app and by calling our call center.
If you have additional demands for car rental, it is important to tell us about these demands during booking. You might need a child's seat or navigation. The number of seats, diesel, gasoline vehicle or automatic or manual gear might be your choices.
Cizgi Rent a Car Privilege That Turns Travel to Comfort
ICF Antalya Airport is 10 km away from the city center and has more than 20 million passenger capacity. The airport has 2 international and one domestic terminal for the comfort of foreign and domestic visitors. You can visit every corner of Antalya and add unforgettable memories by renting a car to save both time and money. You can taste all the food, seafood and cold dishes of the Mediterranean cuisine in Antalya and easily drive to the most famous beaches and most mysterious historical places with your rental car. Cizgi Rent a Car that offers affordable and advantageous options in terms of Antalya rent a car prices turns the leisure and business holidays into comfort with high-standard performance that meets the customer requirements.
Why Should I Rent a Car in Antalya?
Antalya is a city known for its tourism regions. Therefore, there are lots of hotels in the city. While these hotels attract tourists in the summer, there are also demands in the winter. Many companies might organize seminars and meetings in the distinguished hotels in this region. The need for Antalya automobile rental is high. One of the main reasons for that is the touristic properties of the region. Whether you visit the city for holiday or business, renting a car will save both time and money.
Many people have limited annual leave and they want to use this period as logical as possible. Visiting Antalya from different cities by car might mean time and money loss for these people. The fuel cost, time loss due to long journey and the stress and tiredness of the journey can decrease your holiday joy. Similarly, car journey for a few days Antalya trip for a seminar can be tiring and unnecessary. Instead, you can choose flights and benefit from economic car rental opportunities. Thus, you can spend less money and be less tired. At the same time, you can travel in Antalya as you wish.
Where Can I Visit in Antalya?
We have mentioned how the natural beauties and history of Antalya dates back to ancient times. But before coming here, we recommend learning more about places to visit in Antalya. Thus, you can see more places instead of searching for places to visit. Of course, it is better to check Antalya rental car options for these trips.
If we start from the center, Konyaaltı is 15 km away from the airport and one of the popular districts. While the name sounds different, it is believed that this place used to be called "Koyaltı" as it is built on the cliffs and turned into Konyaaltı. This region within Lycian borders is known for 7 km blue flagged beaches expanding to Antalya Port. Another place work visiting is Kaleiçi in Muratpaşa district. This region where you can see the deep signs of the history is surrounded with city walls and Hadrian Door is one of the must-see places here. Tophane and Watch Tower view on tops of Kaleiçi with intense Antalya nightlife is enjoyable. Lara Beach in the same district is a place to be seen especially during summer with fine sand and warm sea.
Belek is one of the popular regions in Antalya. You can shop in this region known for modern and luxurious hotels, eat in fine restaurants or play golf in the world standard golf courses. Kemer region that is 43 km west to Antalya attracts domestic and foreign tourists with luxurious hotels. This region is amazing with natural beauties surrounded with deep blue sea, pine forests and amazing mountains. We recommend spending one night in this region if you benefited from Antalya vehicle rental service.
If you are interested in historical regions and natural beauties of Antalya rather than hotel, nightlife and shopping, you must visit Düden Waterfalls. The waterfall which is approximately 10 km away from the city center is divided into two as Lower Düden and Upper Düden Waterfall. You will not forget this view easily as the view turns into color feast during spring. We recommend Antalya Museum for museum lovers. This museum that exhibits the important artefacts from archeologic excavations in this region is interesting.
Let's talk about places to visit outside Antalya. Olympos 80 km west to Antalya is in Çıralı which is a small coastal district. This mythologic region famous for the treehouse like hostels is a place to be seen by those who want to have a nature holiday. Olympos which was an important Mediterranean port city in the time of Alexander the Great will dazzle you with blue sea and historical artefacts from ancient times. It might be hard to reach this region if you don't have a car. But you can rent a car from Antalya city center with Cizgi Rent a Car, easily reach to Olympos and enjoy this beauty.
You can benefit from affordable rent a car service by Cizgi Rent a Car to visit Karain cave which is one of the largest natural caves in Turkey; Perge Ancient City which is one of the most ordered Roman city with amazing architecture; Termessos one of the best ancient cities with theatre, cistern and wells on the Taurus; Phaselis which is ideal to enjoy the sea among ancient ruins; Myra (Demre) ancient city which is the few large cities of Lycian and where Santa occurred; Aspendos with famous Roman theatre; the protected and sunken ancient city Kekova and Manavgat Waterfall, Alanya Castle, Side museum and many other places far from airport. If you believe fuel will cost a lot to visit all these beauties, you can rent diesel car in Antalya.
What Is Antalya Rent a Car Prices?
Since Antalya is a holiday city, the car rental prices are increasing. But Cizgi Rent a Car offers the best prices in every season to avoid any unjust treatment. You can benefit from this service whenever you want with vehicles you will feel safe, extra services and guarantee. Since there are cars from all segments, you can rent luxurious vehicles or more modest cars.