5% discount is applied to reservations made on our website or mobile page.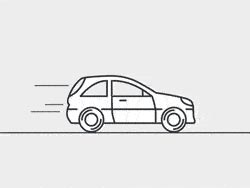 Please wait, we are preparing reasonable prices for you.
İstanbul Anatolia Rent a Car, Car Rental
You will fall in love with İstanbul that connects the Asian and European continent when you arrive. The crowded city with 15 million population has different transportation options. You can live the history in the city with Byzantine and Ottoman work. You might rent a car in İstanbul Anatolian side to spend comfortable and suitable time and visit İstanbul as you like. Visit our İstanbul Sabiha Gökçen Airport car rental page to rent your cat at the airport. You can rent car with affordable price from Cizgi Rent a Car and start moving. To view all our cars in İstanbul, you can visit our İstanbul rent a car page.
When to Visit İstanbul?
It is possible to say that the city has a transition climate due to its location. İstanbul is a cosmopolitan city which you can visit in four seasons. The summer is hot and humid and the winter is cold and rainy. But the best time to visit the city is spring. You can visit and cool down on the green areas and coastal area of Anatolian side.
Where to Stay in İstanbul Anatolian Side?
There are luxurious hotels, guesthouses, hostels, rental houses and city hotels around the city. You can choose an accommodation close to the areas you want to visit. İstanbul is a crowded city. And there is lots of traffic in touristic terms. Also, since the city is a transfer point from east to west, there are high number of daily or short-term visitors. And you can always find a place to stay. The important thing is to find the most suitable hotel for you.
Places to Visit in İstanbul Anatolian Side
İstanbul has been a capital to two large empires in the history. And you will always encounter historical structures in the city. Anatolian side which is more untouched than the European side has lots of places to see. You can visit Maiden's Tower which is the symbol of İstanbul after renting a car from our Sabiha Gökçen Airport or İstanbul Anatolia office. The story of this structure on the Üsküdar coast is known around the world. You can park your car and enjoy your tea and bagel while watching the tower. Anatolian Castle was built in 14th century by Yıldırım Beyazıd for the conquest of İstanbul. While the city was not conquered in that period, it was used by Fatih the Conqueror who built Rumeli Castle to cut the aid from the sea. We recommend experiencing street food when you are in İstanbul. İstanbul is the center of entertainment and daily life with art galleries, cafes, jazz clubs and different tastes. You can rent your car in different segments from Cizgi Rent a Car for an enjoyable and comfortable visit in İstanbul and enjoy İstanbul.