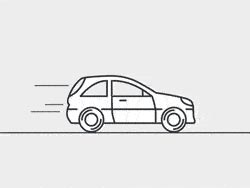 Please wait, we are preparing reasonable prices for you.
Diyarbakır Car Rental
Diyarbakır as one of the most beautiful cities in Southeast Anatolian Region is neighbors to Batman, Muş Şanlıurfa, Adıyaman, Elazığ, Bingöl, Malatya and Mardin. Tigris River which is one of the longest rivers in Turkey flows inside the city. The city with flat roofs due to high temperature during summer has a different architecture. Diyarbakır with its 9000 years of history hosts domestic and foreign tourists with its historical and natural beauties. The university in the city brings vitality to economy. You need to visit this city for Diyarbakır Culture and Art Festival organized at the end of May and various historical and touristic places. It is possible to reach Diyarbakır which is lively in every season from air, railroad and highway. Diyarbakır Airport is 11 km away from the city center and there are direct flights from Ankara, İzmir, Antalya, İstanbul and Adana. The city with large surface area has public transportation as well. But it is possible to benefit from Diyarbakır rent a car options for comfortable travel.
Why Should You Rent a Car in Diyarbakır?
Diyarbakır that welcomes tourists with historical and natural beauties is a center of interest with colorful nightlife. You can benefit from Diyarbakır cheap car rental service for daily or short-term visits to Diyarbakır. Majority of the economy of Diyarbakır depends on agriculture and animal husbandry and the industrial factories contribute to the economy. The city with intense business trips in addition to historical and touristic trips welcomes visitors from all around Turkey. You can easily travel in this city with Grand Mosque, madrasah, museum, towers and bridges with Diyarbakır car rental options. Cizgi Rent a Car emphasized with affordable prices and large vehicle options offers an enjoyable Diyarbakır trip. Instead of getting tired in the public transportation or paying too much money to taxi, you can benefit from best price options to rent a car for your needs and enjoy free travel.
How to Rent a Car in Diyarbakır?
You can easily and practically rent a car from airport a city center of Diyarbakır when you need it. Diyarbakır car rental prices change for the model, brand and renting duration of the vehicle. Cizgi Rent a Car with more than 25 years of experience in the rental car sector enable you to receive the vehicles needed in Diyarbakır in the shortest time possible. Cizgi Rent a Car that has special campaigns for different institutions and organizations offers services to all segments with attractive price options. The firms that aims to offer quality and comfortable service to all visitors in Diyarbakır is praised for 24/7 services. Cizgi Rent a Car offers a corporate experience by meeting the customer expectations with privileged and advanced options. To rent a car in Diyarbakır, you can benefit from Diyarbakır Airport rent a car service. You can rent any car you want to meet your needs and expectations from Cizgi Rent a Car office and turn your travel into a comfortable journey. You can feel more special with privileged services and advantageous payment options. You can book the vehicle you want by calling the airport office. At the same time, you can choose your vehicle online and pick the car from airport. All you need is your ID and driver license to rent a car.
What Should You Be Careful About When You Rent a Car?
Your need to be careful about the vehicle to have sufficient size and hardware to meet your needs and expectations. The number of people, fuel budget, the terrain you want to visit are important factors that determine the vehicle type. Additionally, you need to consider the hardware such as child's seat or navigation of the car.
You need to rent a car from the closest area you have visited for holiday or business. Thus, you can save both time and money.
Rental car firms have discounts and campaigns in certain periods. You can follow these opportunities and you can benefit from advantageous options of Cizgi Rent a Car. At the same time, you can benefit from early booking opportunities of car rental companies and enjoy economic car rental by booking early for your predetermined holiday and business meetings.
Another important thing to be considered when renting a car is to carefully look into insurance and contract documents. You must never rent a car without traffic insurance and car insurance. You must check when you should deliver the car and the interest rate for late delivery.
You can benefit from the privilege of Cizgi Rent a Car for safe and economic car rental and rent the car you want with the best prices and attractive payment options.