›

Places to Visit in Antalya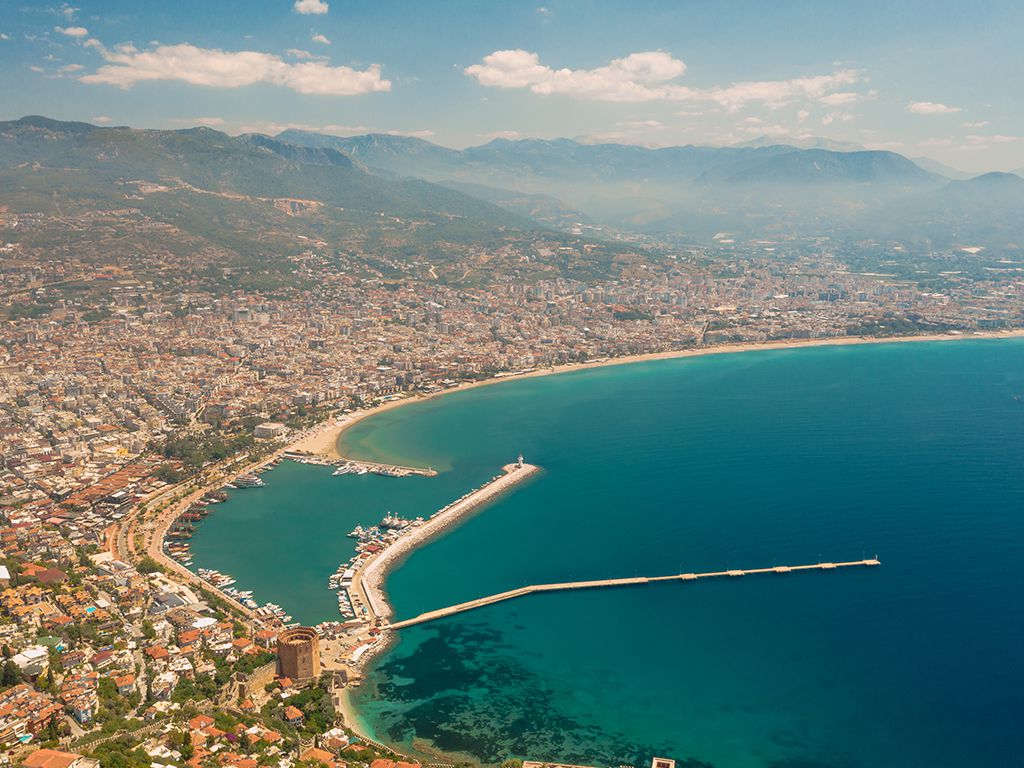 Places to Visit in Antalya
For those saying "The summer vacation can't be wasted by lying the whole day at home.":
Antalya, the city also known as the Holiday Paradise of Mediterranean, is not only one of the first cities coming to our mind when we talk about "sea, sand, sun" but also a city which is unforgettable with its parks, museums, natural beauty and art galleries. If you are looking for a journey during which your cultural acknowledge will enhance, your shoulders will get warm under the hot sun, your nose will be filled with the smell of orange, you can dance till the morning in clubs and also where you can fresh your mind visiting the magnificent waterfalls; then let's make you know about the places you should definitely see in Antalya.
For those saying "We Want to Get More Cultured.":
This geography, where the Lycian Civilization came to life years ago, has become the favorite holiday city of tourists with its deep blue sea and natural beauties. Also this city hosted many civilizations for many years. Antalya, which has a long-established historical richness, is a perfect place for those who love cultural and historical trips with its impressive architecture, imposing structures and ancient cities!
Historical place Kaleici, where you will feel as if you have gone through years ago while walking through narrow streets lined between traditional Turkish houses with bay windows; Yivli Minaret, which has become the symbol of the city and can be seen from all over the city; the Olympos Ancient City, which is also known as the City of Gods; Kaleici Marina, which is a historic harbor where many colorful boats and sailboats in every size are lined; Hadrian Gate, where you will be fascinated with its architecture; Phaselis Bay, which is 60 km away from Antalya, and the tranquil paradise Phaselis Ancient City are among the historical places you can add to your trip.
For Those Saying "We Live for the 'Sea, Sand, Sun' Trio":
In Antalya beaches, where you will have a beautiful view at every hour of the day, you can just lay your towel in front of the excellent view, enjoy the sun and the sea, do water sports activities, and have quite the blast at the energetic beach parties at night.
There are many beautiful beaches you can add to your journey list. But we have chosen some of them according to some qualities. For example, Konyaalti Beach, one of the most famous and beautiful beaches of Antalya; Cleopatra Beach, where you will be fascinated by the stunning view of Alanya Castle while enjoying the sea and the beach; Kemer Beach, which is famous for its enjoyable beach parties where you will have fun till the morning, Incekum Beach, which is way more ideal for campers; and lastly, Lara Karpuz Kaldiran Beach, the sand of which is said to be good for the rheumatic diseases, is the junction point of Duden Waterfall with the sea.
For Those Saying "We Can't Leave Before Camping.":
While some people prefer lying down under the air-conditioned hotel room in vacation, others enjoy setting up a tent on the most beautiful corner of the beach and having pleasant conversations which continue until the morning. In this article, we have also mentioned the most beautiful areas for tent lovers in Antalya.
One of the most beautiful tent areas in Antalya is undoubtedly Kas (or Kaş). Whether you take your tent, or come with your caravan, or with a blanket and a book doesn't matter at all. The conversations with friends become even more unforgettable with the immense beach and the stunning view of the deep blue sea of ​​the Mediterranean. Or, if you wish, you can set your tent up on the most convenient place for you next to Lake Avlan, surrounded by cedar forests, and enjoy the day by watching the calm lake. Apart from these, you can make a nice holiday getaway around Incekum Forest Camp, Green Canyon or in the hidden paradise, Bostanlık Bay, which is right near the Phaselis Ancient City.
While embarking on this enjoyable adventure, it is useful to remember how wide geography Antalya has. If you do not have your own car with you, it will be very useful for you to Antalya rent a car at an affordable price to avoid being deprived of fun activities you can do and to have access from the most beautiful beaches you can swim to calm ancient cities.
---